Here are what I've published so far.
DOCTOR LUKE'S ASSISTANT
Luke, the beloved physician, returns to the Holy Land to write a massive biography of Jesus. To help him with research that a Gentile can't do, he hires Augustus ben Adam, a young Jewish scribe. Augustus is somewhat of a bumbler, though he takes fairly well to working with Luke, as they work in Jerusalem, Bethlehem, and Galilee to find witnesses to the Messiah and to write the large book. Luke, however, runs afoul of both a corrupt Roman official and the Jewish leadership, both of whom try to sabotage his work. At times Augustus plays into the hands of Luke's enemies. To impress a young woman in the Jerusalem church he bribes a prison guard to obtain her father's release. Luke is blamed for it and almost deported. Two of Augustus' good friends turn out to be spies for the Romans and the Jews. Always the development of Luke's book proceeds. Augustus plays a big part of it, even though he doesn't believe in the Messiah he is researching. All events lead to a reckoning with Luke's Roman nemesis before the book can be finished. Click here to see it at the Kindle Store and here to see it at Smashwords.
Preserve The Revelation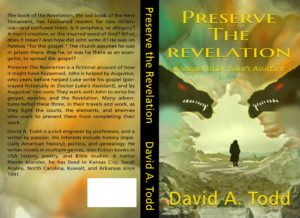 This is the sequel to Doctor Luke's Assistant. Augustus, the amanuensis who helped Luke write his gospel, has developed a reputation as one who can produce documents that support the expansion of the kingdom of God, and so is called upon to help John the apostle write his gospel, and the book of Revelation. This involves traveling from Israel to Ephesus. Augustus decides to involve his two teenage sons in this. They are able to help John, but had no idea of the dangers and adventure they would have in providing this service. They find themselves crosswise with the government in several places, They must fight against the schemes of unscrupulous men who would take what is theirs. And they must fight the elements that seem to be arrayed against them. As is the disjointed way in which they have recorded John's visions. Someone is going to have to make sense of it all.
Along the way, Augustus obtains a curious artifact associated with Jesus. This turns out to be an object that adds significant danger to their situation, as others want this. Augustus, however, is determined to see it returned to Jerusalem, regardless of the difficulty involved.
The book is available in print and as an e-book at Amazon and Smashwords, who distribute it to other e-book sellers.
---
DADDY-DAUGHTER DAY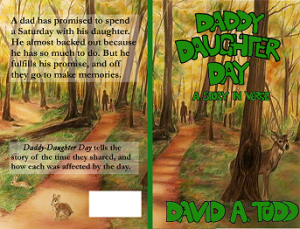 This is my first book of poetry. Long finished, I had waited on publishing it in hopes that I could have it illustrated. Alas, lack of funds to finance it myself, along with the decision that the worlds would just have to make it on their own, led me to decide to publish this now.
It's the story of a day a dad spends with his daughter. You won't find any car chases in this. Not a lot of conflict, except the conflict in the mind of the dad as he regrets that he made the promise, almost didn't fulfill it, and struggles with during the day. I include a couple of poems from the daughter's perspective.
The poems are mostly in forms (as opposed to free verse), though not all are in rhyme. A couple of them make use of blank verse (un-rhymed but metered). Quite a few are short, either cinquains or haikus. I scatter some sonnets among them. Hopefully this will be enjoyable, not just for lovers of poetry, but for everyone who values family relationships.
At present it is only available as a print book at Amazon.
---
 OPERATION LOTUS SUNDAY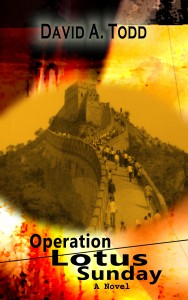 Are they tourists, or are they smugglers and spies? Roger and Sandra Brownwell, American expatriates on an around-the-world vacation with their two preschool children, are scheduled for two weeks across China. It's 1983, only two years after China opened to tourism. They are looking forward to the tour, a once in a lifetime opportunity neither dreamed of even a year before: the Great Wall, the Stone Forest, the terracotta soldiers, and the giant pandas await them. But in Hong Kong a missionary friend talks them into smuggling Chinese Bibles and delivering them in Beijing. So they add that to their already sizable amount of luggage and crammed itinerary. And in Guangzhou they talk to the wrong Chinese man, and in so doing send him away from where the CIA was going to extract him. When confronted by the CIA, they feel they must agree to go to extraordinary lengths to help save the man. Operation Lotus Sunday follows the Brownwells through China as they try to right the wrong they unwittingly did, and save a young man's life while not ripping apart their marriage that was already under strain—traveling with rambunctious children and under the scrutiny of the Chinese government. From Guangzhou to Guilin to Kunming to the Stone Forest to Chengdu to Xian to Beijing, Operation Lotus Sunday provides plenty of danger, temptation, sights, and intimate possibilities. From the book: "Hey, you're in a Communist country. . . You need to play this part now just as much as I do. You think I want this? I was traveling with a gorgeous woman and had great sex with her every day we worked together. Now I'm traveling with Bible-thumping Mommy." Available from Amazon in paperback and Kindle format. Available from Smashwords, Barnes & Noble, and other places as an e-book.
---
IN FRONT OF FIFTY THOUSAND SCREAMING PEOPLE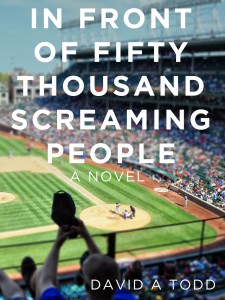 Ronny Thompson just wants to play baseball. He's good at it, and can pitch the Chicago Cubs to their first World Series victory in over a century. So why are all these Mafia-like events swirling around in his life? How does he extricate himself from them? And how does he concentrate on winning baseball games, rather than on his estranged relationship with his parents, his girlfriend, an aggressive reporter, and so much his Kansas farm upbringing didn't prepare him for? In Front Of Fifty Thousand Screaming People is Ronny Thompson's story, of his first two major league seasons. While he adjusts to the big city, two Mafia Dons have a major bet in place, and Ronny Thompson is the key to who wins and who loses. One Don seeks to protect him from the interferences of the other. Despite this Mafia crossfire, Ronny excels, the Cubs play above their abilities, and the whole nation takes an interest in the outcome of the season.
Available from
Amazon
and
Smashwords
. Currently only as an e-book, I hope to have a print version available soon.
---
HEADSHOTS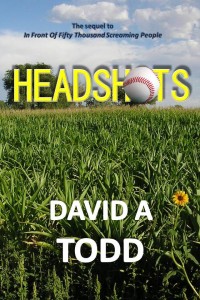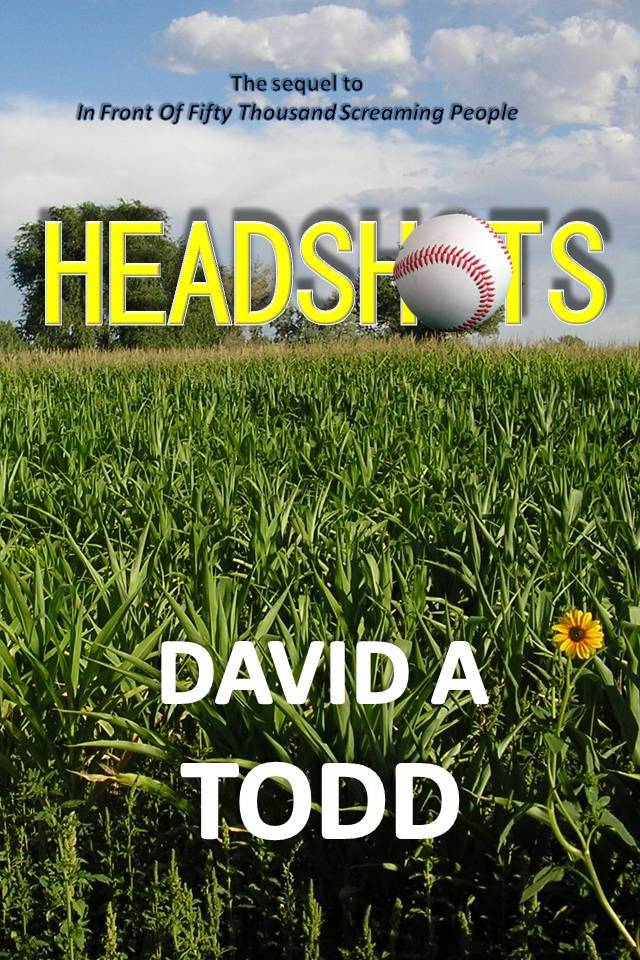 This is the sequel to In Front of Fifty Thousand Screaming People. Ronny Thompson continues in his baseball career, despite the problems from the prior season. He has further adjustments to make, and challenges. On the ball field, he doesn't have the kind of success as he did the prior season, though he still does well. In his personal life, he tries to find ways of having a very private life and keep it hidden from the public, while at the same time living a very public life as a major leaguer. At the same time the Mafia Dons who were for and against him last season are now out to get the woman that he loves, and he feels a need to protect her. It all comes to a head in the way you would expect it to when the Mafia is involved.
Available at Amazon, Smashwords, Barnes and Noble, and other outlets.
---
THE GUTTER CHRONICLES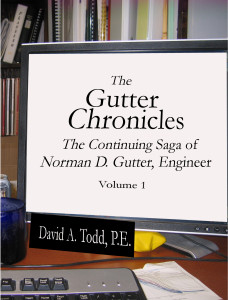 For several years I've written a humorous series at work, which I called The Gutter Chronicles: The Continuing Saga of Norman D Gutter, Engineer. I began this at least ten years ago, wrote a few "episodes," and distributed them to a select few who I knew would give it wide dissemination in the company. They are all moved on now, but I decided to restart the series. When I got to fifteen episodes, I decided to pull them together as a novella and publish them. Here are links at Amazon and Smashwords. It is also available in print from Amazon.
---
Sharon Williams Fonseca: Unconventional C.I.A. Agent
On Facebook one night, I got to kidding around with a girl I went to school with. Don't give me grief, I told her, or you'll wind up in one of my books. Well, I decided to do it. I decided to make Sharon a C.I.A. agent. But not just any agent. No, Sharon has to do it her way, regardless of what the rules say she's supposed to do. Her assignments don't come through normal C.I.A. channels, but through what is almost an agency within an agency. As a result, the Agency doesn't trust her, and goes to great length to monitor her activities around the world.
Whiskey, Zebra, Tango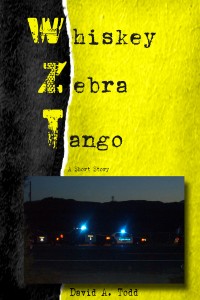 This short story, "Whiskey, Zebra, Tango", is based on a police action that happened in Cranston, RI in January 2011, using one of my school friends as the sort of main character. Sharon is an ex-CIA agent now located in Cranston, who helps a Middle Eastern man escape from the police. He is a suspected terrorist. That puts her under investigation, and could uncover sensitive CIA operations. The police are ready to give her a hard interrogation, not believing this slender, grand-motherly woman would help a terrorist, when they are visited by a man who says he has tangled with Sharon many times in the past, and that the police should just back off. This is available at Amazon and Smashwords, including the Smashwords premium catalog.
Charley Delta Delta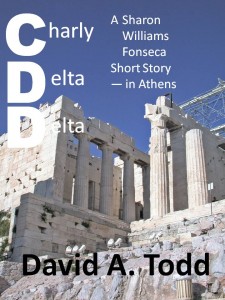 This is the second short story in the series about Sharon Williams Fonseca, unconventional CIA agent. It goes back in time, to when Sharon was an active agent. This story takes us back to 1988, when Fonseca is in Greece. A struggling analyst agent, who wants to be a agent is assigned to follow her for a few days in Athens. He struggles with the demands of being a one-man operation, yet witnesses something he is certain is evidence that Fonseca has indeed gone bad. Then everything explodes around him. Available at Amazon, Smashwords, Barnes & Noble, and other places.
Sierra Kilo Bravo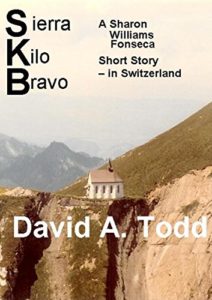 Carter Burns is fresh out of C.I.A. field agent training, and is assigned to the London office. At about the same time, a double agent, an Eastern Block man who was supposed to be working for the Agency, but who was proven to be working for the Soviets, is murdered on a train from Florence to Lucerne. Sharon Williams Fonseca, unconventional C.I.A. agent, was in Florence and then in Lucerne at about the same time. Did she assassinate Sergio Brusci? And, if she did, what that a good thing or a bad thing? Burns is assigned to find out. Set in Italy and Switzerland in 1982, the story traces the beginnings of Burns' involvement with Fonseca. But it won't be the last time he's called on to tail her. Available at Amazon. I have not yet uploaded it to Smashwords, and thus it isn't available at other e-book stores.
Hotel Whiskey Papa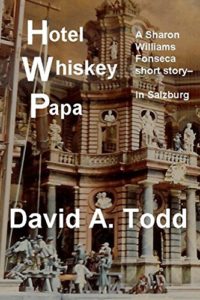 Carter Burns is about to head back to London and await his next assignment, when he is told to rush to Vienna, for Sharon Williams Fonseca appears to be on another case. He finally tracks her down in Salzburg, and must enlist the help of an American tourist so that he can tail her with less conspicuousness. He begins to think Foncesa isn't on a case, but he must follow-through with his instructions. How can one man provide surveillance of a person round the clock? He knows he can't, and concludes the Agency must have something else in mind with having assigned him to follow and observe Sharon's movements. Finally, something does happen, but what, exactly? How does he report this to the Agency, and is it of any real significance? Available as an e-book at Amazon, but not yet at Smashwords.
---
The Candy Store Generation: How The Baby Boomers Are Screwing Up America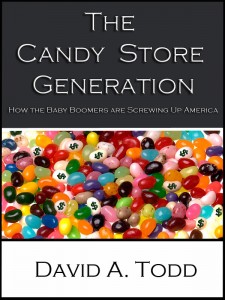 Baby Boomers are now in charge of the United States. In the presidency, the Congress, the Courts, and in business. How are they doing in their positions of leadership? Not very well, if we look at the debt condition of our nation. They are not living up to the examples set by the generations before them. The nation is sinking under a mountain of public and private debt, and the Boomers in charge seem oblivious to it. They are willing to steal their children's retirement funds, and their grandchildren's college funds, to make sure no one in their own generation lives in want or lacks comforts. In this book I look at the leadership the Boomers have given since they became the dominant force in government and business around 2001. Looking at Congress' response to the 9-11 attacks and their economic aftermath, and at the Panic of 2008, I find the Boomers have done an awful job of moving the USA forward. The Candy Store Generation is available at Kindle and Smashwords, from which it is distributed to other e-reader stores. It is also available in a print version at Amazon.
---
Documenting America: Civil War Edition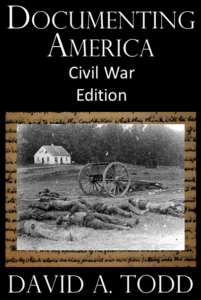 This is the third in the Documenting America series. It focuses on documents produced while the actual fighting was going on, from the firing on Fort Sumter in 1861 to just after Lee's surrender in 1865. In twenty-nine chapters, each looking at a different event, sometimes with multiple documents, the book follows the same format as the others in the series: a document is excerpted; its historical context is discussed, then a lesson is pulled from it that can be applied to an issue the U.S.A. faces today. The book is much more than battles. The politics of the time, economic conditions, and how the issues of that day affected the churches are all discussed.
DA:CWE is available as an e-book at Amazon and Smashwords, as well as at other e-book stores. The print version should be available at Amazon by the middle of August 2017.
Documenting America: Lessons From the United States' Historical Documents – Homeschool Edition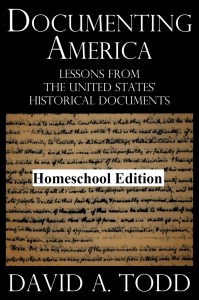 Taking my earlier volume, I have added questions and some short essays for the homeschool student to complete. I see this as a high school elective, not as a history text. A homeschooled high schooler who is interested in US history should find this book to be of interest. The book is available on Kindle and Smashwords, and is distributed by Smashwords to most e-reader platforms. I print book is also available at Amazon. In addition, I have completed a short document for the homeschool instructor, providing answers to questions and some additional information on how assignments might be made. This is available for free just by sending me an e-mail to norman_d_gutter at yahoo dot com.
---
Documenting America: Lessons from the United States' Historical Documents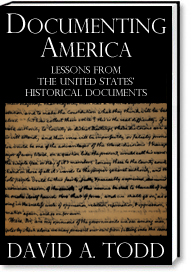 The United States is rich in documents, many which remain in obscurity, but which contain valuable information about the formation of this nation, while at the same time contain lessons for where we are right now. In this book, a number of these documents are quoted in large blocks, the importance of the document explained, and relevancy for America shown. The documents selected cover the 18th and 19th centuries. The colonial era, the run up to Independence, the formative years, and the rise to the beginning of being a great world power are all herein. Click here to see it at the Kindle store. And here to see it at the Smashwords store. And, for those of you who prefer to hold a paper book in your hands rather than an e-book, a paper version is available at CreateSpace.
---
The Danny Tompkins Stories
The Danny Tompkins stories explore the issue of teenage grief at the loss of a parent. Danny is thirteen when he learns his mother has entered the hospital for the last time, and she will die there. The six stories in the series show how Danny coped with the situation then, how it still affected him as an adult, and how he was able to overcome despite a number of associated negative factors. In each story, the adult Daniel writes a poem that addresses some aspect of his mom's death, and of the aftermath.
Mom's Letter: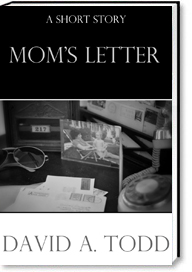 Thirteen year old Danny Tompkins is at the end his first week of scout camp, waiting for his family to arrive to pick him up. They are very late. He wins a special award, but they aren't there to see it. At last his dad arrives. On the drive home he learns his mom is much, much sicker than he realized. They are going straight to the hospital. Forty years later, Daniel Tompkins comes across a letter his mom wrote him while he was at camp. Seeing those words again releases memories of those tragic events. Available at the Kindle store (though with a different cover). And at the Smashwords store.
---
TOO OLD TO PLAY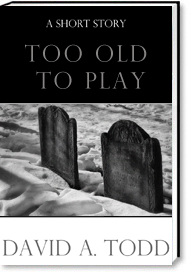 Thirteen year old Danny Tompkins can't believe the party that is going on at his house, right after his mother was buried. Drinks, smokes, wild laughter comes from the adults. The young cousins are in the yard playing. But for Danny there's no place to hide. He's too old to play, plus he doesn't want to. Decades later the adult Daniel returns to his childhood home and relives the memories of those awful events, even "seeing" the participants from room to room. Visits to the graves follow. To fulfill an assignment in an adult education fine arts class, he writes a sonnet explaining the memories. Available at the Kindle store. Available at the Smashwords store.
---
KICKING STONES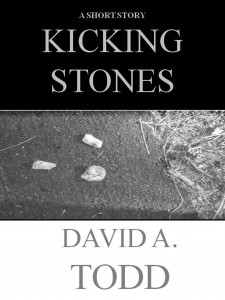 This is the third in my series of short stories dealing with teenage grief. Daniel Tompkins is attending a convention near his hometown. In some downtime he visits the old neighborhood, then decides to walk the mile to his old junior high school. As he does, he finds a stone on the sidewalk and kicks it on ahead. This brings back memories of how he kicked stones on those walks to school so many decades before. Memories of those days flood back, of how he dealt with his grief in the weeks immediately after his mother's death. No counseling was given in those days, and he had to resume the routines of life, family, school, and activities almost as if nothing had happened. As he walks and kicks, he realizes that old practice was a form of grief relief for him.
Available from Amazon, Smashwords, Barnes & Noble, and other retailers.
---
 Saturday Haircuts, Tuesday Funeral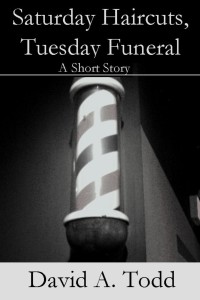 This is the fourth in my series dealing with teenage grief. Danny Thompkins observes his dad in the days immediately following his mother's death. He takes the boys to get haircuts, and observes what seems to him to be too much levity in how his father deals with the barber.
Once again, the older Daniel Thompkins then looks back upon this time, decades after the event, and tries to interpret what was going on. He had come to think much of his dad and all that he went through, raising three teenagers as a single father. The memories help him deal with this as an adult.
Available from Amazon, Smashwords, and Barnes and Noble.
---
What Kept Her Alive?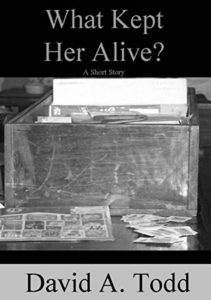 Daniel Tompkins realizes the 50th anniversary of his mother's death is approaching. A scene comes to his mind from his childhood, something he hasn't thought of for years. His mom has returned from a long hospitalization, and his dad is helping her be reacquainted to the house. Daniel thinks about how much pain she must have been in, not only then but through the rest of her life as multiple physical problems hit her. What kept her alive, he wonders? In all the pain it would have been so easy to just give up. Daniel explores his memories of his mom, having a good remembrance of all she did.
"What Kept Her Alive?" is available at Amazon and Smashwords.
Growing Up Too Fast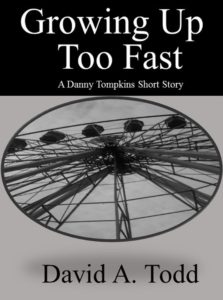 Danny Tompkins, in the years following his mother's death, learns what it is like being in the house in the evening and most of the night without an adult present. Facing much responsibility, Danny copes well, but misses out on a lot of typical teenage stuff. Years later, he looks back on those times and realizes just how rigorous they were. He wonders what it would have been like to date, to hang out with friend, to not spend every waking hour "being responsible." It would have been nice to have found a little time when he could have been irresponsible—even just for an evening. The adult Daniel finds his life laden with responsibility, and muses about a time when he can lay his responsibilities aside. Thinking about that, he pens a most irresponsible poem, and debates whether to discard it or submit it for publication.
As with the other books in the series, Growing Up Too Fast is available as an e-book at Amazon and Smashwords.
---
 Thomas Carlyle's Edinburgh Encyclopedia Articles
I came across the writings of Victorian writer Thomas Carlyle almost by accident, from following other writers to him. Some of his stuff I found to be dated, mainly his political writings. Some of his later works are downright offensive as he seeks to justify slavery and subjugation of the Black race. But some of his earlier stuff was quite good, and timeless. I started studying him, especially his earlier writings, and found the articles he wrote for the Edinburgh Encyclopedia just at the outset of his career. They were nicely written, simple historical pieces.
Some of those had been gathered into a posthumous volume in the late 1800s, but they had never all been gathered into one volume. I decided to do so, and this is the result. This is not something I anticipate being a commercial success. It's more of a labor of enjoyment, and a learning experience for me, at being an editor, and at publishing public domain material, including all the formatting and checking that goes with the task. It is available only at Amazon, both as a print book and e-book.
---
Seth Boynton Cheney: Mystery Man of the West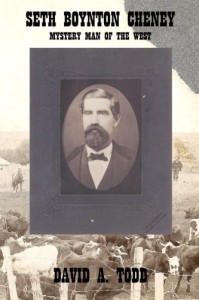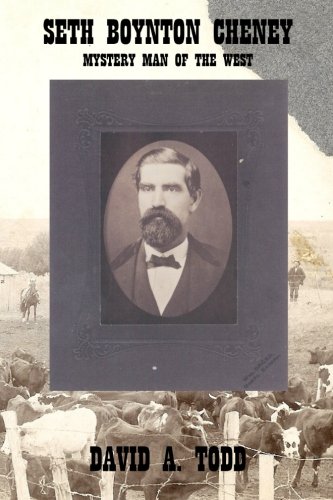 This is a family history book, about 1/3 narrative, 2/3 family data. Seth Cheney was my wife's paternal great-grandfather. He left upstate Vermont when he was 16 to go to California in the Gold Rush. The story passed down through the family was that he was a 49er. His family knew only that, and that he arrived in the Texas Panhandle about 30 years later, and moved to Meade County in southwestern Kansas a couple of years later. It was there that he married a much younger woman and raised a family.
Genealogy research has both proved and disproved the story. We find footprints for Seth in California, but not when and where expected. And we find lingering footprints for him in New England, where we didn't expect him to be.
This is not a book for the general public. It's listed here, and available as a print-book only at Amazon, so that cousins in the extended family can obtain copies. It might also be of interest to those researching John Cheney of Newbury in Massachusetts Bay Colony, as Seth descended from him. The book has 20 pages of data on John.
---
The Learning Curve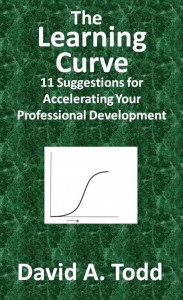 This a professional essay I prepared, as part of my work at CEI Engineering Associates, for a noon class. I've taught this several times, always to good responses. In this issue, available at
Amazon
and other venues via
Smashwords
, I've expanded it a little to be more generic, rather than geared to one company.
This is geared to people in the professions, but the principles in it could also be applied to almost any job where initiative is a factor.
---
 It Happened at the Burger Joint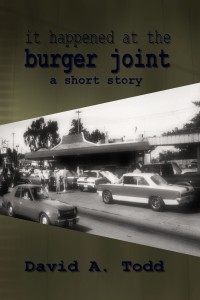 Available at Amazon and other venues via Smashwords.
This short story is of a man back in the town he went to college in, who looks up a friend from forty years ago. He remembered the house she lived in when they worked together at the Burger Joint, while he was in college and she in high school. Sure enough, he finds her house, learns that she is still living there, but also that she is in the last stages of life after a fight with cancer. She wasn't exactly an old flame, but they had had feelings for each other.
He spends a couple of hours at her house, getting to know her daughter and sisters, and going through old memorabilia she had collected, which included a couple of things about him. He goes on about his business trip, while the daughter ponders exactly what he was to her mom, and the effect he has on her as she's dying.