Here are what I've published so far.
THE GUTTER CHRONICLES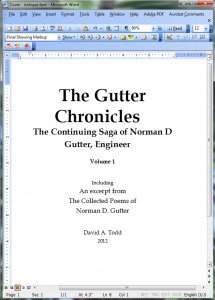 For several years I've written a humorous series at work, which I called The Gutter Chronicles: The Continuing Saga of Norman D Gutter, Engineer. I began this at least ten years ago, wrote a few page "episode," and distributed it to a select few who I knew would give it wide dissemination in the company. They are all gone now, but I decided to restart the series. When I got to fifteen episodes, I decided to pull them together as a novella and publish them, as an e-book only. Here are links at Amazon and Smashwords. It's not yet in the Smashwords premium catalog (and hence not at B&N, iTunes, and others) until I can tweak the cover.
---
WHISKEY, ZEBRA, TANGO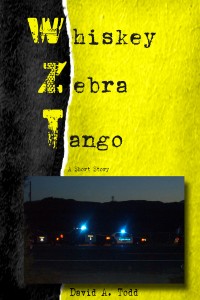 My newest short story, "Whiskey, Zebra, Tango", is finished. I decided to write this story, which is based on a police action that happened in Cranston, RI in January 2011, using one of my school friends as the sort of main character. She will is an ex-CIA agent now located in Cranston, who helps a Middle Eastern man escape from the police. That puts her under investigation, and could uncover sensitive CIA operations.
The story is approximately 7,000 words. This is available at Amazon and Smashwords, including the Smashwords premium catalog.
---
in front of fifty thousands screaming people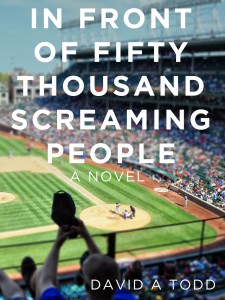 Ronny Thompson just wants to play baseball. He's good at it, and can pitch the Chicago Cubs to their first World Series victory in over a century. So why are all these Mafia-like events swirling around in his life? How does he extricate himself from them? And how does he concentrate on winning baseball games, rather than on his estranged relationshipwith his parents, his girlfriend, an aggressive reporter, and so much his Kansas farm upbringing didn't prepare him for?
In Front Of Fifty Thousand Screaming People is Ronny Thompson's story, of his first two major league seasons. While he adjusts to the big city, two Mafia Dons have a major bet in place, and Ronny Thompson is the key to who wins and who loses. One Don seeks to protect him from the interferrences of the other. Despite this Mafia crossfire, Ronny excels, the Cubs play above their abilities, and the whole nation takes an interest in the outcome of the season.
Available from Amazon and Smashwords. Currently only as an e-book, I hope to have a print version available soon.
---
The candy store generation: how the baby boomers are screwing up america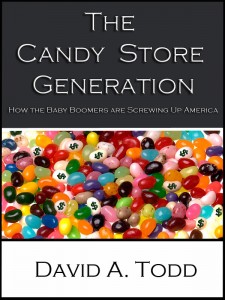 Baby Boomers are now in charge of the United States. In the presidency, the Congress, the Courts, and in business. How are they doing in their positions of leadership? Not very well, if we look at the debt condition of our nation. They are not living up to the examples set by the generations before them. The nation is sinking under a mountain of public and private debt, and the Boomers in charge seem oblivious to it. They are willing to steal their children's retirement, and their grandchildren's college funds, to make sure no one in their own generation lives in want or lacks comforts.
In this book I look at the leadership the Boomers have given since they became the dominant force in government and business around 2001. Looking at Congress' response to the 9-11 attacks and their economic aftermath, and at the Panic of 2008, I find the Boomers have done an awful job of moving the USA forward.
The Candy Store Generation is available at Kindle and Smashwords, and should soon be distributed to other e-reader stores. It will also soon be available in a print version at Amazon.
---
Documenting America: Lessons From the United States' Historical Documents – Homeshcool Edition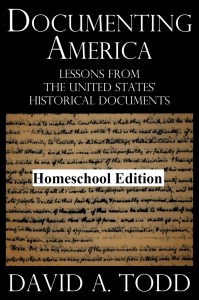 Taking my earlier volume, I have added questions and some short essays for the home to complete. I see this as a high school elective, not as a history text. A homeschooled high schooler who is interested in US history should find this book to be of interest. The book is available on Kindle and Smashwords, and will soon be distributed by Smashwords to most e-reader platforms. I will also have a print book available soon.
In addition, I have completed a short document for the homeschool instructor, providing answers to questions and some additional information on how assignments might be made. This is available for free just by sending me an e-mail to norman_d_gutter at yahoo dot com.
---
Doctor luke's assistant
Luke, the beloved physician, returns to the Holy Land to write a massive biography of Jesus. To help him with research that a Gentile can't do, he hires Augustus ben Adam, a young Jewish scribe. Augustus is somewhat of a bumbler, though he takes fairly well to working with Luke, as they work in Jerusalem, Bethlehem, and Galilee to find witnesses to the Messiah and to write the large book.
Luke, however, runs afoul of both a corrupt Roman official and the Jewish leadership, both of whom try to sabotage his work. At times Augustus plays into the hands of Luke's enemies. To impress a young woman in the Jerusalem church he bribes a prison guard to obtain her father's release. Luke is blamed for it and almost deported. Two of Augustus' good friends turn out to be spies for the Romans and the Jews.
Always the development of Luke's book proceeds. Augustus plays a big part of it, even though he doesn't believe in the Messiah he is researching. All events lead to a  reckoning with Luke's Roman nemesis before the book can be finished.
Click here to see it at the Kindle Store and here to see it at Smashwords.
---
Documenting America
Lessons from the United States' Historical Documents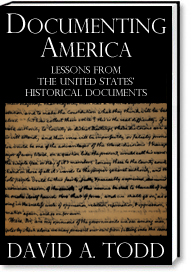 The United States is rich in documents, many which remain in obscurity, but which contain valuable information about the formation of this nation, while at the same time contain lessons for where we are right now. In this book, a number of these documents are quoted in large blocks, the importance of the document explained, and relevancy for America shown. The documents selected cover the 18th and 19th centuries. The colonial era, the run up to Independence, the formative years, and the rise to the beginning of being a great world power are all herein.
Click here to see it at the Kindle store.
And here to see it at the Smashwords store.
And, for those of you who prefer to hold a paper book in your hands rather than an e-book, a paper version is available at CreateSpace.
---
Mom's Letter
A Short Story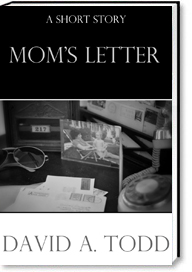 Thirteen year old Danny Tompkins is at the end his first week of scout camp, waiting for his family to arrive to pick him up. They are very late. He wins a special award, but they aren't there to see it. At last his dad arrives. On the drive home he learns his mom is much, much sicker than he realized. They are going straight to the hospital.
Forty years later, Daniel Tompkins comes across a letter his mom wrote him while he was at camp. Seeing those words again releases memories of those tragic events.
Available at the Kindle store (though with a different cover).
And at the Smashwords store.
---
TOO OLD TO PLAY
A short story
Thirteen year old Danny Tompkins can't believe the party that is going on at his
house, right after his mother was buried. Drinks, smoke, wild laughter comes
from the adults. The young cousins are in the yard playing. But for Danny
there's no place to hide. He's too old to play, plus he doesn't want
to.
Decades later the adult Daniel returns to his childhood home and
relives the memories of those awful events, even "seeing" the participants from
room to room. Visits to the graves follow. To fulfill an assignment in an adult
education fine arts class, he writes a sonnet explaining the memories.
Available at the Kindle store.
Available at the Smashwords store.
---