Has it really been ten days since I posted here? On several days I had good intentions, and ideas in mind. But they came to me at a moment when I couldn't post, and when I did post they didn't come to me.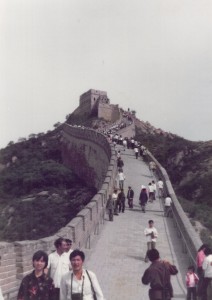 But much has happened in the interim. Mostly good things. Here's a summary.
The print edition of Doctor Luke's Assistant is officially published. And the listing on Amazon is consolidated, with the e- and print editions showing on the same page and on the summary listing.
My third grandbaby, Elise Marie Schneberger, was born on May 10, weighing in at 8 lbs. 8 oz. Today I head west to spend the weekend with her, and with other members of the family. This is my first granddaughter.
Found the missing pictures from our China trip in 1983. I wanted some of these for the cover of China Tour. Plus, who wants to lose photos of such a momentous event? I knew they had to be in the house somewhere and had spent a couple of hours looking. As typical of when you look for something packed away, I was looking for the wrong kind of box. I finally began going through the shelves in the storage room in the basement, marking all boxes on the shelves, and found then in about a half hour of looking. Found a good one to use for the main illustration, which I may add to this post.
Completed round two of edits of China Tour, and began round 3 (the final round), which is really just proofreading. Or maybe I should say if all I find is proofreading type changes it will be the last round. If I find any substantive changes needed, then I'll need another round of edits.
My launch team is giving me reports on the book. I've heard from 5 out of 12 who have read it completely, and from several others who are some way into it. So far everyone likes it enough to stay on the team. Even my wife read it and said it was good, that she couldn't guess ahead to what was going to happen.
The cover designer has begun production. It's a somewhat simple cover (said the man who can't do that kind of work at all) using photos from our China trip. I'm not quite sure when it will be done, but it seems likely before I actually finish all edits for the book.
The title will be changing, probably to Lotus Sunday or perhaps Operation Lotus Sunday. One other possibility I'm mulling over is Saving Dragonfly.
Yesterday I sold the first paperback copy of Doctor Luke's Assistant. That earns me $1.17 in royalty, because I kept the price low. It sure feels good to sell one. That's also my first sale of anything in May.
So there you have the news from Bentonville/Bella Vista, Arkansas. If I had to guess I'd say Lotus Sunday will launch around June 1st. I'll keep you all posted.
---