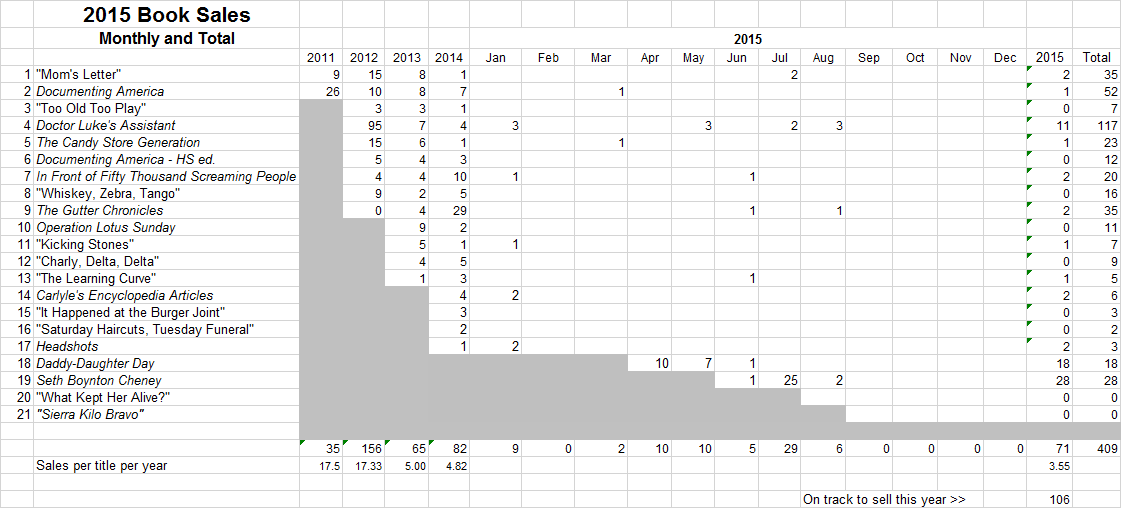 Oops! I'm a day late making a blog post. I had planned on something else, but instead I think I'll give a book sales report. Excuse me a moment while I check my posts and see when is the last time I did that…
…I'm back. It looks as if I've not made a formal sales report at all in 2015. If that's the case, the easiest way is for me to simply post a table from my spreadsheet. There it is above, through the end of August.
I'm on track to sell more books than last year. Sitting now at 71 sales, which equates to a yearly rate of 106. However, my sales this year are mostly driven by my issuing Daddy Daughter Day in April and Seth Boynton Cheney in September. Both of these are print-only books, and have sold mostly hand to hand. Without those, I'd have less than 20 sales this year. But, then, I'm up to over 400 sales all together in 4 1/2 years. I'll take them.
Of course, that's with almost zero publicity or promotion. I still don't know what type of promotion would be effective for the books I publish. Perhaps next year I'll do more promotion. Or perhaps not. Osmosis isn't very effective I'm finding out, despite what some of the self-publishing gurus say.