I think I've written this before. I hate G.I.M.P. (which I'll type as GIMP to speed things up). This is a graphical design program, a poor man's Photoshop.  I'm using it to make book covers. I do that because the copy of Photoshop Elements (i.e. Photoshop lite) on our laptop looks very hard to use.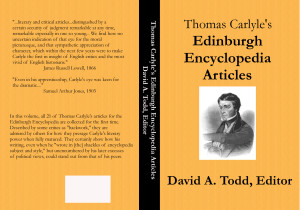 But GIMP is probably just as hard. The first cover I made with it was for Thomas Carlyle's Edinburgh Encyclopedia Articles. See that yellow background? I have no idea how I did that. I couldn't figure out how to add color to the canvas. At least I did figure out what the canvas was and how to create it at the size I needed. That was kind of easy. But when it came time to select the simple color that the canvas should be, I couldn't figure out how to make it happen.
I tried a bunch of things, and eventually that color appeared on the canvas. I have no clue what set of keystrokes I used to achieve that. When I wanted to do the same thing with the cover for In Front of Fifty Thousand Screaming People, the same thing happened, more or less. Though maybe this time it wasn't quite so random. I thought I figured out the right place to do the color add thing. I must have been in the right place, because the color added, but, again, don't ask me what keystrokes I used.
Of course, since I couldn't figure out how to resize the cover photo and change the aspect ratio, without cropping, I couldn't do what I wanted to do anyhow.
I suppose I need to take a couple of weeks and just learn the program. Trial and error, figuring out what works and what doesn't. Problem is, I don't have a couple of weeks of spare time to devote to that.