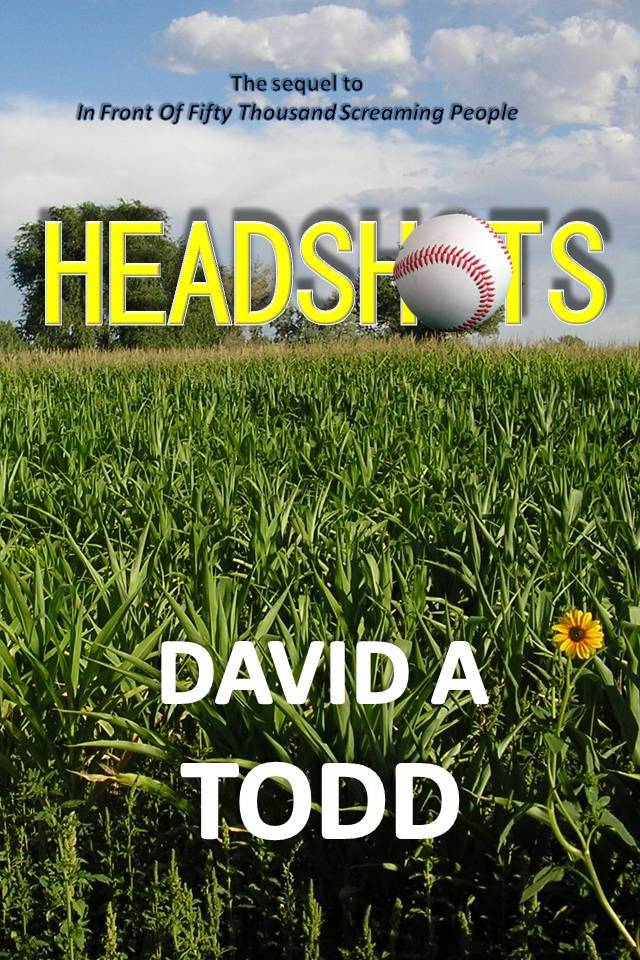 Yesterday was my scheduled day to post to this blog. I didn't do it, however, as I spent my pre-work hour at the office on putting some finishing touches on Headshots. That meant putting back in some new chapter divisions, working on the copyright page, and something else I can't remember right now. That took up the time I would otherwise have spent writing a post. I still intended to write one, either on the noon hour or at home after work.
Alas, the noon hour went by on something else, and when I got home I discovered I had failed to e-mail myself the Headshots file I'd worked on at the office. So I had to do all that work over again, an hour more or less. My goal was to upload it to Amazon last night, and take advantage of their new pre-order feature on Kindle Direct Publishing, with an issue date of August 28. So I did the work over again, tweaked the copyright page a little more, built a table of contents, and added the "About the Author" and "Works by the Author" sections. This took another hour, more or less.
When that was done I went to KDP and began the uploading process. This is not difficult, but it is somewhat tedious. You have to pick your book's genre (you're allowed to list it in two) and add description for the book. I find both of those fairly difficult to do. As for genres, I put it in:
> Fiction > Sports
> Fiction > Thrillers > Crime
I suppose those work. As for description, I used this as the tag line: A young pitcher must make a comeback while protecting his family from Mafia hit men. That seemed a good one-line description. I was supposed to add something more, much more, but moved on for the moment to other parts of the uploading process. The cover gave me some trouble, as I had never adjusted the size to the dimensions Kindle and Smashwords wants. It took me a while to get the right file loaded and to make the adjustment, but it was done. With the book file uploaded, I checked it on the Kindle previewer. It seems the chapter titles aren't displaying correctly on the Kindle. They are correct in the Word file. I decided that was something I could fix between now and the 28th, so didn't worry about it.
I went to the second page of the uploading form and worked on pricing, royalty rate, rights, etc. I had it all done. As I'd been at it for two and a half hours and was tired of it all, I clicked on "Publish".  I got the notice that it would be about twelve hours before it showed up at Amazon as available to pre-order. All was well. Then I remembered I'd never gone back and finished the book description. All that was there was the one-liner.
So today, sometime, I'll need to finish the book description and re-publish. Hopefully that won't take too long. Here's the link to the book in its pre-order state:
http://www.amazon.com/dp/B00MVFV6R8
My next step is to see if I want to make another change suggested by all my beta readers. They all said too many characters were introduced in the first three chapters, making it overwhelming. In response to that I had already written out one character, a police detective. Well, I didn't actually write him out; I just deleted his name from the text. I had already decided I could delete the names of two key associates of the New York Mafia Don. They had no real role in the first chapter—they were just there, and I had referred to them by name. I could introduce them in the chapters where they first appeared with substantive contributions to the story.
I went upstairs and began marking up a copy of the book. I re-read the first three chapters. As I said , taking out the associates names were fairly easy. I decided the only other names I could remove from those three chapters were of the three Cubs' players who had had slumps during the playoffs in the first book, In Front of Fifty Thousand Screaming People. They are key characters in Headshots, but I decided they really didn't need to be introduced by name in the first three chapters. So I took an hour to go through those chapters, see what would need to be changed or moved to make it a good change, and marked-up the manuscript accordingly. That took me all the way till bed time.
My mind was very tired by then, but I was satisfied. I knew I could delete six character names from the first three chapters, which should improve the reading experience. The book publishing was in progress. Yes, I still had more to do, but that was okay. For now all was good. And there's lots of time between now and August 28th to make other corrections. And I still have the Smashwords edition to prepare, but won't have that up until the publication date.
Headshots is my 17th item published, all at Amazon, and all but one at Smashwords. Hopefully this will spur sales.