I can't remember if I reported here, or only on my FB author's page, that I received a $50 coupon from Facebook to use on an ad campaign. Prior to receiving that I had done a bunch of clicking on FB ad pages, going through the motions of placing an ad, but not really intending to. I just wanted to see how easy it would be. They [FB] of course knew about my clicks and thought "Ah ha! Someone who wanted to place an ad but stopped short. Let's give him a coupon to run a small campaign, and we'll have another advertiser."
The coupon would expire in a couple of months, so even though I had nothing newly published worth advertising, I decided to go ahead and test the waters. I began the campaign on March 23 and set it to end on April 12. At any point I could change the ending day. Putting the ads together wasn't actually difficult. It was all menu driven. Type in a title, some text, upload a photo, decide what the action is you want people to take, decide how the ads will be paid, click finished, and poof! Your ad is live. That sounds easy, but at many steps along the way I found I didn't really understand what I was doing.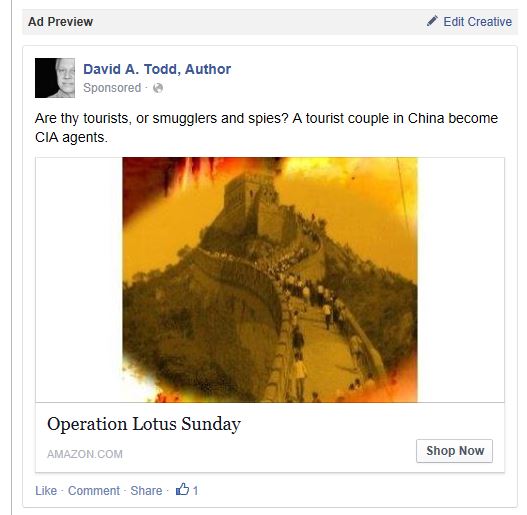 I decided to advertise my most recent novel, Operation Lotus Sunday, and an earlier novel, Doctor Luke's Assistant. Then I decided to also include The Candy Store Generation in the campaign. The last few days I decided to add an ad for Documenting America. When I did the ad for OLS, I decided I wanted two photos in the ad. I uploaded the front cover, then uploaded the back cover picture. Unfortunately, I didn't know FB interpreted that as two different ads and, through the course of the campaign, the back cover photo ad was used much more than the front cover one.
Here are the stats from the campaign, as reported by FB.
Reach 31,355 (times the ads were seen)
Website clicks 135
Frequency 1.21 (no. of times a person saw the ads)
Avg cost per website click $0.37
And, the statistics reported by me:

Yes, during the ad campaign I sold only one of those books via Amazon (the links included in the ad), an e-book copy of DLA. So $50 spent generated $4.99 in sales, and less than that in revenue. I'm glad I wasn't spending my own money.
Much of this process was uncomfortable. I could decide to pay for the ads by the website click, by impression, or another way. It's interesting that my money lasted exactly till the end of the campaign. I'm sure FB's algorithms knew how much per day I had to spend, monitored the actions being taken, and showed the ad more or fewer times according to how much budget and time were left.
The look of and information in the ads was limited, which was good, I guess, as I couldn't have done much to spiff them up even if I wanted to. I'm not there on my knowledge of computer graphics.
One of the decisions I had to make was whether I wanted the ads associated with my personal FB page or my author page. I decided my author page. This really skewed my stats for that page. It went from "interacting" with about twenty to forty people a week (not all unique) to several thousand. Of course, FB was saying someone seeing my ad was an interaction. So for two weeks I interacted with thousands of people. Now, more than a week after the campaign, I'm back to twenty to forty a week, and the pages says that's down 99.9% from a week ago.
The bottom line from all of this: I'm glad I wasn't spending my own money. I don't see myself ever running a FB ad campaign again, at least not until something happens that shows me it does some good.
---