I have been quite busy with publishing tasks lately, a consequence of which is I've neglected my blogs. The end is not yet, however. Today, I hope, I will finish all the work required for the print book and perhaps upload it tonight. That depends on getting the cover for the print book. I think it will come today.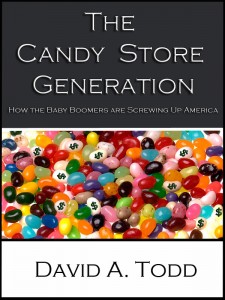 The official publication date for The Candy Store Generation: How the Baby Boomers are Screwing Up America is July 14, 2012. Bastille Day. I didn't think about that at the time. That's the fifth work I've self-published, with two more to come within a month, and maybe two or three more short items after that. At least, that's the plan. I may be sick of publishing business after the first couple and find it difficult to do the rest without a break first.
As of this writing I have three sales of TCSG. Amazon algorithms seem to have gone haywire, because those three sales put it at #14 and #16 on its genre bestseller listings. Doesn't seem possible, but I'll enjoy it while it lasts.