Tuesday evening I went back to editing on my book Documenting America: Civil War Edition. I finished the first round of edits about ten days ago, and decided to let it sit awhile, to give me a fresh perspective. That time passed, and so I decided it was time to edit. I have the book out with a beta reader, who I told not to hurry on it, as I wouldn't be publishing it till sometime in July.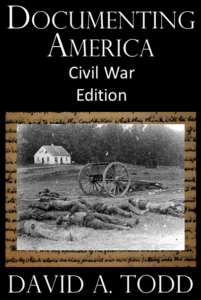 As I looked at the book, I decided to take a slightly different approach to this round of edits. Each chapter is organized like this. It's built around an historical document from the Civil War era. I write a lead-in paragraph, briefly setting the scene. The original document comes next, usually heavily edited down to a reasonable amount to read. After the document comes two pieces of my writing, which together are usually shorter than the document excerpt. In the first bit, I do a little explaining of the document or of the issues it is involved with. In the second bit I try to tie the document to an issue we are facing today. My purpose for that is to show that things may not have changed as much as we think they have.
During my first round of edits, I realized that the early chapters, which were written in 2014, and the later chapters, written in 2017, had significant differences between them. The 2014 chapters make reference to world events that were hot topics then, but which, to some extent, have faded from the front pages. The 2017 chapters make appropriate references to current world events.
But, does this not show a weakness in the book? If I refer to events that don't seem as important now as they seemed in 2014, maybe they really aren't worth mentioning at all. I need to think about this.
So, to bet back to my editing approach. I decided in this round of edits I would just read the words I wrote, not the documents I edited. That way I get through them a whole lot faster. In three days I read and edited my words in 17 chapters. Only 12 to go, so I should finish those by Sunday.
I'm hoping that reading these parts close together, and quickly, will give me greater insight into what changes I should make, if any. It may be that I'll leave it about as is, and add some explanation in the Introduction about the times of writing.
Either way, I'll finish it by Sunday, then do another read-through of the excerpted documents, and see if there's anything else I can cut for readability while not destroying the integrity of what the document says.