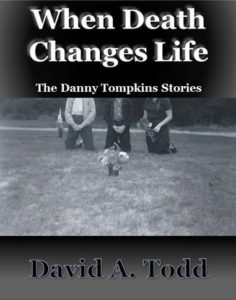 We are now in the ninth day of the fourth quarter. Time for me to lay out my writing plans for the next three months. Well, writing and publishing plans, that is. Without further introduction, here's what's definitely in my plans.
Publish When Death Changes Life, the boxed-set of the Danny Tompkins stories. I have the master file completed, the e-book cover completed, and just need to start the actual production. I hope that, one week from today, I can announce that it's published.
Work on The Gutter Chronicles: Volume 2. As I've said before, I got through the fourth chapter of this (maybe two years ago), and just stopped to work on other things. This is something to do on my computer at work, in my morning me-time and on the noon hour. I believe I could complete the writing of this before 2017 comes to a close.
Work on Adam Of Jerusalem. The prequel to Doctor Luke's Assistant, I wrote the first chapter of this a month ago (or maybe more than that), but stopped. This is work to do at home, in the evenings.
These are the three things I will definitely work on during the next three months. However, a few other items are on my radar, and may—I emphasize, may—capture the time of a few of my gray cells and find themselves coming to be in tangible form.
The next short story in the Sharon Williams Fonseca CIA agent series. It's tentatively titled Papa Delta Foxtrot. I have the plot somewhat roughed out. At between 3,000 and 6,000 words, I should be able to fit this in. I need to be a bit more inspired to do so.
Continued work on my two interrupted Thomas Carlyle projects. These are affectations for me, as they will never make any money. But, hey, none of my other writing makes any money, so why not work on these? The Chronological Composition Bibliography is something I pull out every now and then and get a little more done on. I'm actually at a point in his career where it would be easy to finish this. I should just do it. The book about his Chartism is also fairly fare along. I think a month of concentrated work would see it to completion. If I get bored or stuck working on other things, I may just spend time on these two.
Expand my research notes on the Stephen Cross and Elizabeth Cheney family into a small genealogy book. I actually pulled this out about two weeks ago to make a judgment on how much work this would require. I decided it's more than I want to tackle right now, so I set it aside. However, if other things don't pan out, maybe, just maybe, this will capture some of my time.
So that's my plans as of right now. I have other things in the planning process, but I don't expect to be working on them any time soon. Perhaps I'll do a post on them in a week or so.