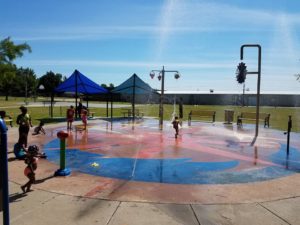 This past weekend, a four-day weekend for me, we went to Oklahoma City to be with our daughter and her family. We had missed a birthday weekend for two grandchildren earlier in the month, so we sort of made up for it with this weekend. Our time was full of typical holiday weekend stuff. I even slept out in a tent in the backyard one night with the three older grandkids.
One bad things that happened: When I woke up from a Sunday afternoon nap, sitting in a chair on their patio, with my head back against a pillar, my knee was hurting really badly. No reason for it. I didn't trip, didn't wrench it. Within three days it was back to normal, which includes some underlying pain until I get it replaced. Very weird. That's actually not part of the story, but I thought you might be interested.
The story is my observations at the local spray park on Memorial Day. This is a neat park, across the street from the grandkids elementary school. We got there around 10:30 in the morning. No other cars were there, and the water wasn't going. I thought perhaps the park was closed. However, I soon found out you turn the water on by rubbing your hand over a sensor. The water runs on a timer, and must be restarted every five minutes or so. I thought that was nice, with no wasted water. That's quite good.
Within 15 minutes, other cars began arriving. Within an hour, the parking lot was half full and the park was awash with kids, of all ages, having a great time with the different jets, with spray guns and water balloons. In the two hours we were there, I didn't see anyone hurt. We left there with three happy, but tired, kids, and two tired adults.
That's not much of a story, you say, not worthy of a blog post. No, but let me finish. On this weekend, for reading material, I brought the printed first-draft of my work-in-progress, Documenting America: Civil War Edition. I started reading/editing it Sunday afternoon. I made good progress despite my nap and my knee. I was reading chapters I'd written almost three years ago, chapters about the early days of the Civil War, when the Union and Confederacy were laying out their war aims. Soon I'll be reading later chapters. In all of these, race is a factor.
Race, first as in slavery, then as in segregation, all with the belief that the black race was inferior to the white race, and thus bondage for them was the normal condition. Short of that, segregation was next best. As I wrote in the book, the source materials I had to go through to write this were painful to read, and painful to write about. We've sure come a long way as a nation. I'm not saying we've come as far as we should, or can, but I'm glad for what progress we have made.
Which brings me back to the spray park. We were the first family there that day. The second family was a black woman with four children. Later conversation revealed one was her child, three were nephews or nieces. The third and fourth families were black. The fifth family was white. After that I lost count, or rather didn't bother to count, because I didn't really care. I was so happy that the white and black race can mix like that. When the park was quite well populated, I'd say the races were pretty well balanced. No one seemed to care. Splash and play  feels about the same for whites as it does for blacks.
I thought of how fifty or sixty years ago, spray parks like this would have been segregated, and wouldn't have been built in black neighborhoods at all. Yes, we have made progress.
I'll get through this round of edits, print it again, and read it again. I'd say I'm a little more than a month away from having a finished book, ready for publication. The pain of reading the old, racist materials will pass. Hopefully the words I added to the source words will make a difference with someone, and will improve race relations just a little. That's what I hope for.