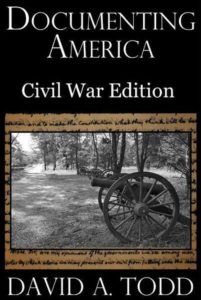 My book on the civil war, Documenting America: The Civil War Edition, had much to say about race relations. How could it not, when the war, despite revisionist history to the contrary, was about perpetuating slavery?
I've made some posts about the contents of that book (such as this one: On Confederate Civil War Monuments). This weekend, with the terrible events unfolding in Charlottesville, Virginia, but without  time to watch the news enough to take in a full picture of what was happening, I can't help but be saddened by what I saw and heard about. Clearly, something has gone wrong in this country. Progress we had made has disappeared, and we are back to the 1960s, or even the 1950s, in terms of race relations.
Yet, perhaps that's an overly negative reaction to what happened, and what is happening. I think the number of people who would take us backwards is relatively small, certainly smaller than it was in those earlier decades. At least, I hope it's smaller. Nowadays even a small group of nut jobs can get press out of proportion to the strength of their numbers, and certainly to the strength of their cause. So, although some groups are not even close to representative of barely aligned groups, the whackos get all the press.
In my book, one chapter deals with the views of Louis Agassiz on what would happen—what should be done with—the emancipated slaves once the war came to an end. Agassiz was a Harvard professor. He wrote three letters to a colleague who had solicited his views. Agassiz's reply boils down to this: The blacks should be kept separated from the whites, and the two not be allowed to reproduce together; and those who are already mixed-race (half-breeds as he called them) should be allowed to die out. He said that intermingling of the races was "repugnant to my feelings".
I found Agassiz's views repugnant. That was the basis of my chapter. Here is some of what I wrote in terms of the modern lesson to be drawn from those old letters.
What is to be done? How do we change the hearts of mankind to drive racism into the abyss where it belongs? It's said that, if you change yourself, you can change your family. If you change your family, you can change your neighborhood. If you change your neighborhood you can change your city. If you change your city you can change your county. If you change your county you can change your state—and your nation, and the world. It's a big task, but it starts with me.

I'm glad my parents raised me without prejudice. Yet, I still need to be careful, less latent racism creep in and, without my realizing it, cause me to alter my behavior. To let that happen would truly be "repugnant to my feelings", and something I—and we all—must diligently guard against.
Yesterday I posted that to Facebooks, to many likes, and no negative comments. Maybe, just maybe, it will have done some books. Nevertheless, at present, I remain saddened.