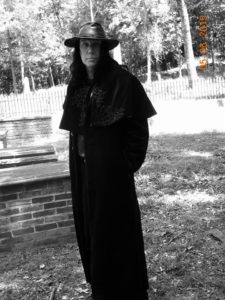 Every family probably has a writer or two in it. Previously I've interviewed a first cousin who is a writer and who's published her books. Today is an interview with another cousin, in this case a second cousin, A.D. Vick. A.D.'s dad and my dad were first cousins. They spent a lot of time together growing up, and were in touch regularly as adults. It helped that our two families attended the same church, the Vicks sitting right behind the Todds on the first and second pews, left side.
A.D. is the oldest of three children, and three years ahead of me in school. We saw a lot of each other before college years, even at the shore in summers. I remember visiting his grandfather (my great-uncle) a number of times while his family was there also.
A.D. was from Providence, Rhode Island. In the late 1970s he moved to Fayetteville, Arkansas, and has lived there ever since. I got to northwest Arkansas in 1991, but didn't know he was 30 miles down the road from me, something I learned in 1997. It wasn't until May 2016 that we saw each other, though through the miracle of Facebook we had reconnected earlier than that.
At some point I learned A.D. was a writer. His tales could be considered part of the goth subculture, that…well, I think it's best now to let this be in his own words.
You state you are part of the Goth Culture. But many people don't really know what that is, or they think of it as a teenage phase. Can you give us a quick summary of what it means to be Goth?
Vick: Modern goth culture grew out of the post-punk movement during the early 1980s in Great Britain. The music that came to be called goth rock and dark wave had a darker feel to it than the better-known new wave that enjoyed a lot of popularity at the time. If the goth culture has a theme song, it would have to be Bela Lugosi's Dead, by Bauhaus.
Goths in general, see beauty in darkness and accept darkness as a part of life. Yes, many enjoy the macabre, like to spend time in cemeteries (as do I) and enjoy dark fashion, which exists in great diversity. We are a harmless lot however, and would rather spend time reading, watching horror movies, drinking tea in graveyards, or writing poetry than causing any trouble.
Contrary to belief, there is no age limit to goth. While there's little doubt that for some teenagers, goth is just a phase, many embrace the culture for a life time. It's who they are.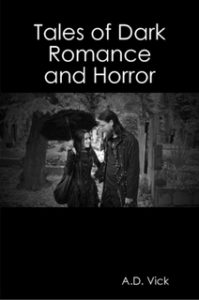 You have a book out, Tales of Dark Romance and Horror. Tell us a little about it. How did you come to write it?
Vick: I see Tales of Dark Romance and Horror as sort of a documentary on my writing style. The book contains 12 short stories and one novella. I'm a romantic at heart and most of the material in the book reflects that. Still, I can look at the work contained within its pages as a reflection of my evolution as a writer.
My greatest literary inspiration is Edgar Allan Poe. I can vividly remember being stretched out on my bed reading his fiction as a child, and I firmly believe that it was he who inspired me to stay firmly in the realm of the short story. Other inspirations include H.P. Lovecraft, Anne Rice, and Charles de Lint.
I can still remember being taken somewhere with my parents as a child and at times, sitting and writing fiction to amuse myself. I always enjoyed writing and have indulged myself in many different aspects of that craft over the years. Still, I really like using grammar and punctuation creatively, which is something you simply cannot do if you're doing technical writing, for example. So, between my love of fiction, my enjoyment of the macabre, and my love for romance and the creative use of language, I decided to write the book.
Are the stories stand-alone, or are they part of a series?
Vick: Some is part of a series and some is stand-alone. Three stories comprise my Raven series. Raven is a dead woman who comes back to this reality from the land of the dead to meet with her love, who still lives in the flesh, and to play violin in a metal band. Then, there's my Sea Haven series, which I place on North Carolina's outer banks. These two stories center around a couple of goth women who are best friends and the last of what was once a thriving culture in their locale. There are two other stories contained in the book that belong to my A Fall From Grace series. This is vampire fiction.
Even though the other stories are stand-alone, there are ways in which some of them intersect. For example, both my Raven series and the novella Rosalie center around a fictitious town I call Fox Grove, which I place in Newton County, Arkansas. The characters differ but I like using that locale.
Give us an idea of a typical plot. Take one story and walk us through it.
Vick: My style seems to be evolving and I'm not sure that there is a typical plot. The one constant, however, is that most of my material involves a mix of both romance and horror. So, I would like to use Night of the Harvestmen, which made me the 2014 Writer's Workshop winner at Horror Addicts Dot Net.
The story, which is told in the first person, opens with the protagonist shouting with glee as he watches his house burning down. After the opening scene, the plot flashes back to a seemingly chance encounter he has with a young woman on a street in North Charleston, South Carolina. The lady has an incredible effect upon him and it takes days for him to get over her; this, even though nothing of significance took place between them.
Our hero returns to his rural home to find that he must deal with an infestation of harvestmen (daddy long legs), which seem to be gaining control of his house. After a week or two of battling with them, his abode is finally free of them. A friend reminds him that there is a goth music festival coming up on the weekend; and after battling the harvestmen for so long, he's excited about attending. Upon his arrival, he spots the same lady he'd briefly encountered in North Charleston. They hit it off and she goes home with him. Our hero has found the love of his life and is in bliss until something goes terribly wrong.
What's in store next? Are you working on more stories, or another book?
Vick: I'm currently working on a story called The Arrival of Narkissa Laveau. This is to be the last story I'll  write for a new book. This new publication will be smaller than the first and will contain seven stories. Still, I feel that it would be advantageous to get a second book published. While I haven't settled on a title for this upcoming publication, I've arranged for someone to do a bit more art work for it and I have a picture that I believe will serve as an excellent cover photo. I hope to publish by the end of winter or early spring.
Al's book can be found at Amazon.com: