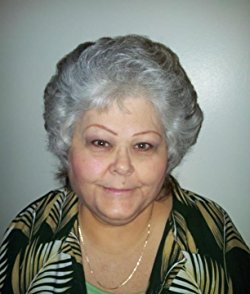 My cousin Susan Todd is a writer, with several books to her credit. I've written about her before. We used to see each other years ago, when I was so young I haven't carried those memories to adulthood. Her father moved the family in the mid-1950s. There's a photo of us together in 1959 in the family album. Otherwise, I had no contact with her until the late 1990s. I started working on genealogy. I had no idea where she was, so I contacted her dad, my uncle, and got an address, and wrote her.
I was just starting to write then. She'd been at it for a while. That common bond, along with the family tie, caused us to maintain contact. She even came to Arkansas and stayed with us for a couple of months.
Somehow I missed that she had a new book out last year. Shame on me. So here, belatedly, we talk about it.
Q: I see your latest book, Tangled Lives, was published in 2016. I guess I missed the book launch. Tell us something about that book.
Suz (her preferred diminutive): This book idea sat in my files for quite a long time before the reason I started it resurfaced. When I first began investigating the Internet, I was a wide-eyed overzealous sleuth as green as grass. I claimed my ticket and hopped aboard to venture to places in hopes of meeting people that I would never come to know in my limited surroundings.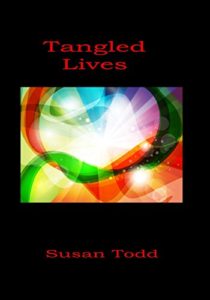 Assuming that the people I encountered would be as honest and forthright as me; I dove in. Stone Blue was like no other person I'd ever met or will meet. Taking her on as a character was easy—all I had to do was draw from everything she said and did in our relationship. This woman had—issues—none of which I blew out of proportion.
She had to be written about. I couldn't have made this woman up if I tried. Therefore, I went to a place I knew she'd fit in—under the porch with Moses Down. Thus, Tangled Lives came alive on paper.
Q: You say "there's a thin line between fact and fiction," and challenge your readers to tell which of the characters are real, and which are fictional. So, are you saying that some of your characters ARE based on real people, with, I presume, the names changed to protect the innocent (or guilty, as the case may be)?
Suz: I love to people watch. It's not a new idea it's been done on street corners, shopping malls, in families, on jobs and simply anywhere you find life. I have to confess that over the years I have nitpicked personalities. Whether from my upbringing or self-taught I seem to have trouble with some people's behavior. Because I can't correct or eliminate these individuals' conduct—I write about them. On paper, I can expose their shortcomings, educate them, or simply let them be what they are allowing the reader to pass their own judgment.
The world affords a vast panorama of fictional possibilities—all you have to do is open your door or in some cases go to a family reunion.
Q: What genre do you consider Tangled Lives to be, or is it one of those books that defy genre classification? I'm assuming, even though some characters are "plucked from real life" that we are talking about a novel, not a non-fiction book.
Suz: Maybe it's a 'fictional how to and not to'.
Q: Your Amazon page shows nine books (I think) to your credit. They appear to be a mix of fiction, non-fiction, and memoir. What kind of author do you see yourself as, primarily?
Suz: I'm definitely a fictional author. Someone, I'm not sure who, once said that we should write so that the characters leap off the page. I tend to take my people-net and after capturing a few crazies, annoying or rare real life finds—embed them in a book. I often wonder which of my characters will some reader say, "That's me!"
Q: I assume you're working on a new book. Tell us about it, and when it might be out.
Suz: 'A' book? I'm laughing, Dave, because you know all too well that—A—book is never a reality. It's more like, which one am I going to finish first. I hop about my files like a frog under a bug light. But I have to say that Covert Plumage and God in a Sweater are running neck and neck.
Now that I've finished moving and the last of the boxes have stopped calling my name to unpack them while enjoying coffee in the morning, I'm beginning to hear my characters clamoring to come out and play on my keyboard. No rest for the author in me. Who knows, maybe this year two books will make it to the finish line.