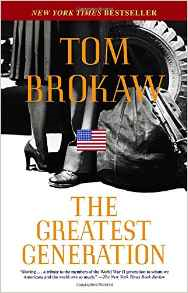 Back in 2012, when I was writing The Candy Store Generation, I went looking for books about generational identity. Of course I was familiar with Tom Brokaw's The Greatest Generation. As I did my study, I found that just about everyone had adopted Brokaw's appellation to that bunch of Americans born between 1900 and 1924. Some extend it all the way to 1939 or so, but Brokaw is clearly talking about those who experienced the Great Depression and led the effort in World War 2, or who fought in it. Yes, many born after 1924 also fought in it, as teenagers. I wouldn't argue against including them.
As I was studying, I picked up a used copy of TGC, read enough of it to be able to pull some information from it, then set it aside and went back to higher priority stuff on my reading pile. After finishing A Generation of Sociopaths, I decided the more opportune time had come. I found TGC in my reading pile, and went through it in a little more than two weeks.
It's an excellent book, and its place in the history of America's story won't be enhanced or diminished because I review it. The reading is easy, and Brokaw does a good job of weaving short bios of men and women who served in the war into the war story itself. He doesn't stop there. He tells us something of their lives before and after the war. In some cases  the post-war story was much longer than the description of the war service.
I do have a few criticisms, however. Almost everyone described in the book was an officer. A few began as enlisted men, then were promoted in the ranks. I would have liked to have learned something more about the experiences of the dogfaces in the battle line. Then, the field of journalism is over-represented among the stories. In the part about famous people who served in the war, such as politicians and CEOs, he pulls almost half of them from the ranks of famous journalists. I suppose that's understandable, given that Brokaw is a journalist. He would of course have more contacts in his own field, and would have an easier time getting those stories, and a greater interest in them. Still, knowing more about a few policemen, construction workers, bus drivers, and factory workers would have been nice.
One the other hand, Brokaw does a nice job of covering issues of racial prejudice, in the country and the military, as well as the limited opportunities for women to serve. He does this in a non-critical way, yet makes it clear he wishes it had been otherwise, and is glad that progress has been made in both areas. I thought this part of the book was very, very well done.
Thinking again about the officers vs enlisted men, or the famous vs the obscure, I offer up my dad as an example. He started out the war as a dogfaced private. Shipped first to England then to North Africa, he wasn't in the first wave. He was scheduled to be in the invasion of Italy, but was pulled off the LSI in Tunis at the last minute to go work the Stars and Stripes, setting type for them—his pre-war occupation. His service the rest of the war was for his fellow soldiers, getting the news to them, helping them to keep up morale.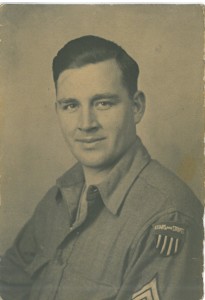 Dad was closely associates with Bill Mauldin, the cartoonist. For a good amount of time they were in the same S&S office, I think in Italy, but for sure in southern France, and at the end of the war. Mauldin is famous for his Willie & Sam cartoons, of two common privates who found humor in war situations. It's said that General Patton didn't like those cartoons, for they showed soldiers who were not our best. Yet, the S&S brass must have realized the soldiers loved them, for the cartoons continued.
My dad played a part in this, as Mauldin often had Dad pose for him. Most likely another soldier was involved as well. I can't look at a Willie & Sam cartoon and help but wonder, "Did Dad pose for that one? Is that a drawing of Dad?" Dad spoke of Bill often, yet I don't believe they had contact after the war. After Dad died in 1997, I thought of trying to find Mauldin to let him know, but never did. He died in 2003, the same age as Dad.
I've rather gotten off the track here, haven't I? This is supposed to be about TGC, not my dad. I thought of it because, in the last chapter, Brokaw touches on Mauldin's work at S&S during the war. That made me think of Dad, and since I was already thinking Brokaw had somewhat shortchanged the enlisted man, made me further think it would have been nice to have had Dad's story in that, or one of the other 8 million like him.
If you haven't read TGC, I recommend you do so. It will give you a greater appreciation for those who came before us, and in some cases were our parents. I'm starting to reduce my library, and am being more selective about the books I keep. This one I'm keeping, however. Hopefully Lynda will want to read it. I don't expect I'll read it again, but you never know.