Each year, in December (okay, a few have been in late-November), I post about some memory of past Christmases, specifically those from my childhood years. If I keep this blog up long enough, I may run out of those and have to go to teen years. Examples of some of those posts are:
December 2015: Progressive Christmas decoration
December 2014: Wrapping Paper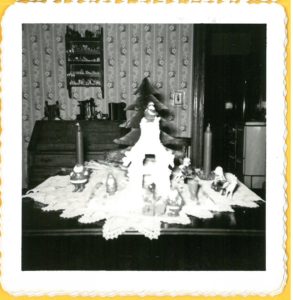 One memory I've wanted to write about, but haven't because of a lack of photo to illustrate it, was our candy house. Other people do gingerbread houses; we did a candy house. My brother got all the family photo albums; one of his sons now has it. I keep forgetting to ask him for a copy of some of the photos. I've finally done that. However, as I wait for a good photo that shows the house in it's full glory, I found this one in the photos I have. It's from 1953, from before my memories, and it shows an early version of the house that would over the years morph into the one I remember.
Dad built the house out of plywood, put a simple light bulb base in it, with a blue incandescent bulb, and voila: you had a house that would be pretty with that blue light shining through the windows and door. All that was left was the decoration.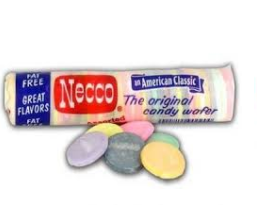 This happened either on Christmas eve, or maybe a couple of days before. Mom would make a large batch of white frosting (no store-bought stuff for us, if it was even available then). The whole outside was covered with this to represent snow, with the frosting dripped from the eves to form "icicles". Then candy was stuck to the frosting. Necco Wafers for shingles on the roof. Red and green M&Ms for bricks on the chimney. Also M&Ms for the Christmas tree on the back. Gum drops to line the windows on each side.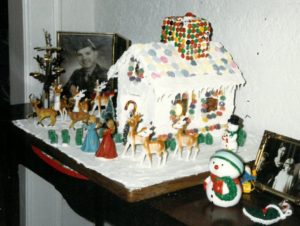 The house was set on a thick piece of glass, which would also be covered with frosting. Spearmint candies made nice landscaping. Either spearmint or gumdrops lined the walkway leading to the house. The final thing was a candy cane stuck to the front door.
On to the dining room table it went. But, the decorating wasn't done yet. All around the house were put various figurine. Carolers, snowmen, reindeer, someone in a horse-drawn sleigh. And, in the chimney, a right-sized Santa Claus, ready to go down.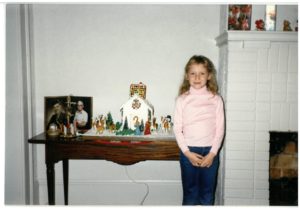 The photo I give you here doesn't do it justice. This was early in the candy house tradition. You can't actually see any candy on it. In fact, I suspect this was the first year for it, when my sister was 3, I was almost 2, and baby brother would make his appearance two weeks later. They made a nice, white house—very pretty—and went with the external decorations. After this they probably thought, "Why not stick candy on all that frosting?", and in later years did so.
How long did the candy last, you wonder? With three young kids in the house, you'd think not long. But the rule was: No taking candy off the candy house until New Year's Day! And we obeyed. On new years day we could begin. I always went for a Necco Wafer first, then a gumdrop, then a spearmint tree. I'd break an "icicle" off and have that. It would usually take four or five days to get the house and "grounds" clean of candy.
Dad built several of these candy houses. I know he gave one to his sister Esther, who decorated it. I'm sure he made at least one more, though I'm not sure who got that.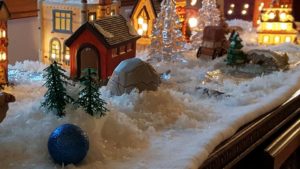 Years later, in the mid-1980s, when we were living in North Carolina, I asked Dad if I could have the candy house. He had no kids in the house and no wife to prepare it. He said yes. I remember we decorated it one year, around 1986: same house, same base, same candies uses, different accessories. We have a very nice photo of our daughter next to the house. If I can find it, I'll add it to this post. But, I believe it's in an envelope somewhere in the house, never having been put in an album.
I thought this year would be a good year to make the candy house, for the grand-kids to enjoy. I wouldn't even make them wait until New Year's to take candy from it. Alas, I can't find it. It appears that, from our many moves, the house and glass are gone. Did a mover steal it? Not likely. Did I give it to someone rather than store it when we moved from NC to Kuwait? Possible, but not likely. Is it hiding in a box, somewhere in our large and poorly-organized storeroom? Perhaps. If not, I don't know what's become of it. A piece of Dad gone forever.
Perhaps I'll learn woodworking skills that Dad never taught me, and figure out how to make one; or find a kit at a hobby store. Maybe I can build a house for next year, and the wife and I can figure how to make it look half as good as Mom did. If so, you can be sure I'll post it here.